When you're on a road trip and you so happen to be in the middle of nowhere, hungry and in need of a bathroom, the gas station is one of the best things you can see. Not only can you fill up your vehicle's tank, but you can also relieve yourself and buy all your favorite snack combinations! Mine is probably an energy drink with some candy or pizza from Huck's. (more on that in a minute)
However, there are many things that are overlooked when shopping in a gas station, and that is the food that's made there; fresh.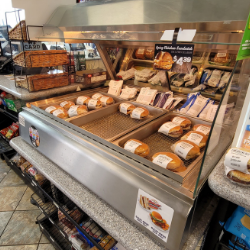 Now, to the normal eye, people automatically think that gas station food is bad because, well, it's "gas station food." But I have actually taken the leap of faith to try the food that is offered at some of my local gas stations. I've taken the deep dive and compared different food items that gas stations have to offer and let me tell you, I am very surprised. Not only is it good, but it's appropriately priced.
For example, sometimes when I'm free, I like to go to the nearest Huck's and get a personal Godfather's Pizza. It's a crispy, cheesy, and tasty box of pizza that only costs $5. It's perfect for a quick lunch or dinner. The burgers they offer are also good. However, they aren't the Culver's (my personal favorite fast food joint) type of burger, but it's more similar in taste to a burger that's grilled at home which in my opinion, surpasses any burger offered anywhere.
Let's walk away from lunch and talk about breakfast now. The MotoMart by my house had a really good breakfast option. Unfortunately, it's no longer offered, but it was the bacon, egg, and cheese roller taquito. I'm pretty sure they're called tornados, but anyway, they are delicious. Luckily, their quality coffee is still available and it as well is appropriately priced. I believe it's only $1.69 for a large size.
Let's swing back to Huck's for a minute. I noticed the other day that they offer quick breakfast items such as donuts and cinnamon rolls, which would look pretty bomb if heated up. I haven't been there for breakfast yet, but I plan to go there soon and you should expect my full review next time I'm able to write a blog.
I will offer a fair warning that not every item offered at a gas station is good. For example, my MotoMart used to have a Krispy Kreme booth but has since been replaced with some sketchy brand which I will not name, and the donuts just look hard and stale. And I'm at least 80% certain that this is the case with most gas stations that aren't Huck's or 7-Eleven, those are like the top-tier places. In my opinion, stations like MotoMart, Marathon, and Thortons are the mid-tier ones with the less fresh items, but sometimes you'll go into those lower-tier gas stations looking for copper and come out with gold, as I have.